Photos
On this page you will find pictures showing some of the work that we have been doing in class.
Sports week
What a week! We have played hockey, football, rounders, rugby, football rounders and netball. We have all had a go at fencing and Moky, as well as taking part in a swimming gala and a class sports day! Here are a few photographs of us having a great time!
Planting Heathers
On Tuesday 5th May, Year 5 went to Whitehaven to help plant some heathers with the National Trust. Last year, the children had helped to replant the small heather plants into bigger pots. We started by finding out about the habitat we were helping to protect. We then planted 300 heather plants in 40 minutes! We were very efficient!
Tullie House
On Tuesday 20th March, we went to Tullie House to 'Meet a Viking'. When we arrived our first activity was in the museum looking at the Viking exhibition and making a necklace with Thor's hammer.
We then got to meet a Viking who showed us lots of things which Vikings would have had and told us about life as a Viking.
After lunch we looked at some artefacts and took part in some drama to retell a Viking story. Below are some of the 300 photographs and videos we took of the day!
Viking exhibit
Meet the Viking
Artefacts
Cogs - DT afternoon
As part of our art and DT week, we have been investigating cogs using technic Lego. To begin with we tested what would happen if:
we connected a cog with 36 teeth to a cog with 12 teeth and turned the big cog once; and

we connected a cog with 20 teeth to a cog with 12 teeth and turned the big cog six times.
We then experimented with combining different sized cogs and different numbers of cogs.
Mrs Winn challenged us to find a way to alter the direction of the force. Two of our super girls managed this! Well done ladies!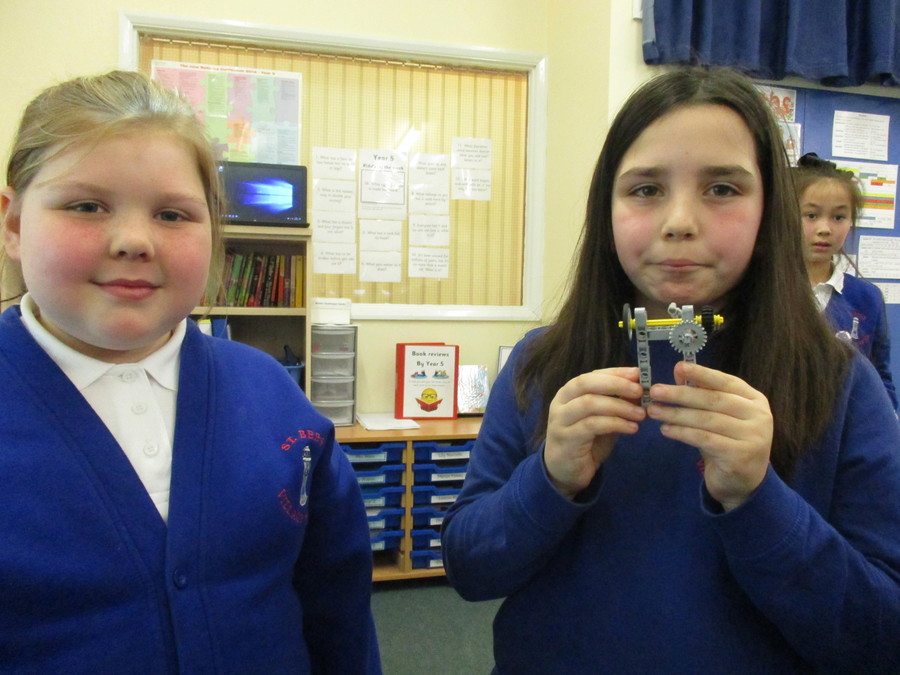 Music Day
Year 5 had a fabulous time during our Music day at the end of the Autumn term. We used the djembe drums, the gamelan instruments and sung with the National Youth choir (as well as a few music quizzes and some ukulele playing). At the end of the day we took part in and watched a selection of the songs and tunes from the day in the hall as part of a whole school concert.
Felting
As part of our art and DT week at the end of the first autumn half term, year 5 made some felt.
First we pulled out little bits of wool and laid them down on the net to make the background;
then we added colour to make a pattern or picture;
we then put the net on top and wet it;
we had to carefully push the wool down, without rubbing;
next we added soap and rubbed in small circles;
after that we wrapped the felt around a piece of pipe lagging and squeezed out the excess water; and
finally we unrolled out felt and admired out finished work.
Our finished felting
Divali
We have been learning about Divali in RE. We had a visitor from Tullie House, who came to explain how she celebrates Divali and remind the children about the story of Rama and Sita. We also learnt some Indian dance.
Meet Year 5 2017-18
Macbeth
Tullie House - Artefacts
Tullie House - Meet the Viking
Tullie House - gallery
Chinese New Year
Lego workshop
Beach Litter Pick
Robotics
Robotics

On Wednesday 14th September, we had Fran from STEM in all day to learn about robots. We had a great time learning how to program our robots to move forwards, move backwards, rotate and turn. By the end of the day we were all able to program our robots to dance!