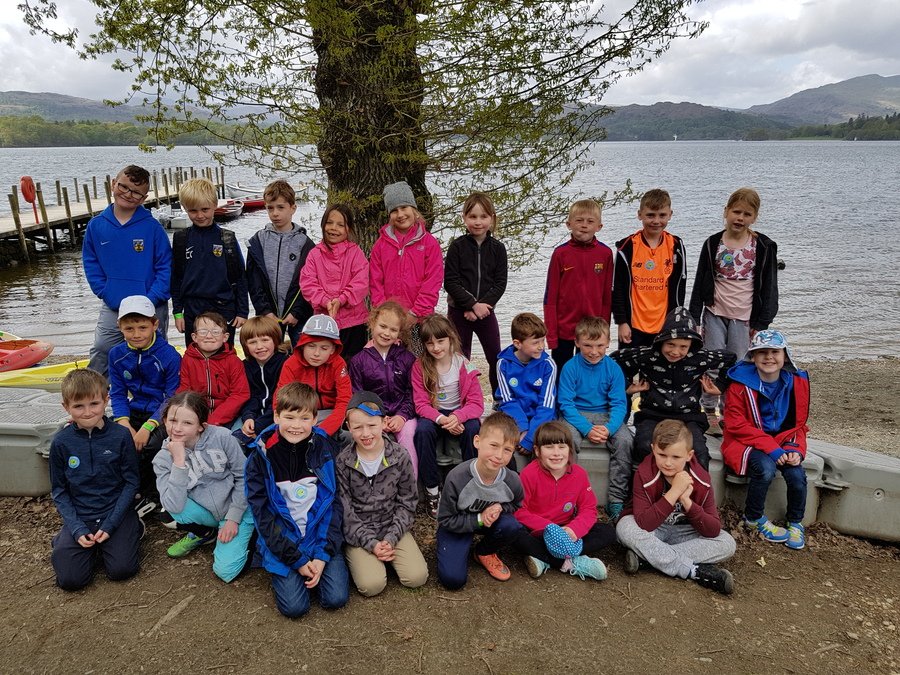 What an amazing time we had on our residential trip to Windermere! The children were absolutely brilliant and joined in enthusiastically with all activities and their behaviour was impeccable; we had many compliments about their brilliant behaviour from residents and staff at the Youth Hostel as well as from tourists at all the attractions we visited. Please enjoy the photos of each day below; there are quite a lot!
Day 1

After our arrival and picnic lunch, we had great fun doing bush craft and survival activities out in the woods with Ian. Activities included: First aid (bandaging) and stretcher building, shelter building, a blindfold trail and finally the hilarious bush tucker trial where some very brave children managed to eat all the interesting insects and bugs provided by Ian! A tasty tea followed and then it was back to the woods for more (very wet and extremely muddy!) play, fun and games. After showers we all had hot chocolate with our teddies and then it was time for bed and sleep…eventually!
Day 2
Our second day began quite early! Much caffeine was consumed by staff and then we all had a wonderful full cooked breakfast! We then got ready for our day out to Brockhole and the taxis came to shuttle us down the road. The tree top trek was fantastic and everyone was very brave and completed it with no problems. After the trek, we had a picnic lunch and a stroll down to the lake. The adventure playground was our next stop where the children would have played all day given the chance! More adventures in the woods were had after tea, followed by showers and more hot chocolate.
Day 3
We couldn't believe it was already time to pack and go home! On our way home, we took the launch over to the aquarium where we had a fantastic guided tour and even saw Nemo and Dory! A picnic lunch followed and then back to the bus for our return trip. We were VERY, VERY tired! Huge thanks must go to Mrs Cruden and Mrs Agnew for all their help enabling us to go on this trip!
Year 3 Windermere Residential
Wednesday 9th May- Friday 11th May 2018
Dear Parents,
With our residential to Windemere getting closer, I thought that I would send you more details about our trip. I know that for a lot of your children this will be the first time that they have been away without you- please do not panic! Speaking from many years of experience of taking children away on residential trips, I can tell you that they will be absolutely fine and once they've waved goodbye to you from the bus I'm afraid to tell you that they won't miss you at all- they will be far too busy to feel homesick! Included in this letter is all the information that you will need for this trip. However, if you have any other queries that I haven't answered then please email me at sgeorge@stbeesvillage.cumbria.sch.uk or call the office on 01946 822392.
Staffing
The following members of school staff will be accompanying Year 3: Mrs George, Mrs Cruden and Ms Hamilton. We are all mums with lots of experience so rest assured that whilst in our care your child will be treated as one of our own- that includes making sure that they've showered and cleaned their teeth as well as plenty of hugs at bedtime!
Itinerary
Wednesday 9th May
• Depart school at 9.15am
• Lunch at Windermere (packed lunch brought from home)
• Bush crafts and team building at the youth hostel (instructor led)
• Tea- 6pm
• Free (supervised) play/team games in grounds of youth hostel
• Hot chocolate/showers/bedtime- 9-10pm(ish!)
Thursday 10th May
• Breakfast- 8am
• Depart youth hostel to go to Brockhole- 9.30am
• Tree-top trek (instructor led)
• Lunch
• Adventure playground/exploring in the grounds of Brockhole
• Return to youth hostel at 5.30pm
• Tea- 6pm
• Free (supervised) play/team games in grounds of youth hostel
• Hot chocolate/showers/packing/bedtime- 9-10pm(ish!)
Friday 11th May
• Breakfast- 8am
• Pick up by coach from youth hostel- 9.30am
• Lake Cruise departing from Windermere- 10.30am
• Aquarium visit- 11.15am
• Lunch
• Depart from Aquarium- 1.30pm
• Arrive St Bees- 3.15pm
• 3.30pm- Children at home fast asleep in bed! Staff lying down in a darkened room with crisps, chocolate and something cold from the fridge and remaining there until Monday morning!
Medical/emergency contact form
Attached to this letter is a medical/emergency contact form for your child. It is crucial that this form is filled in and returned to school by Monday 19th March at the very latest. No child will be allowed to come on the trip without this form. All forms are strictly confidential and only accompanying staff will have access to the details contained on them.

Medication
Any medication required by your child should be handed to staff prior to departure, properly labelled with your child's name and dosage. Teachers will take responsibility for administering these during this trip. This does not include inhalers or travel pills, which children should be capable of looking after themselves.

Kit list
Please do not pack a huge amount- we are only away for 2 nights! Please ensure that all items are labelled with your child's name and let them pack their own bag so that they know where everything is (and what belongs to them!) The following is a list of the kit needed:
• 1 small rucksack
• 1 small suitcase/bag
• Teddy/cuddly toy- essential and most important!
• Nightwear
• Bath Towel
• Toiletries
• Underwear/socks
• Trousers/joggers
• T shirts
• Fleece/hoody
• Indoor footwear (slippers or similar)
• Trainers
• Walking shoes/wellies
• Waterproof coat (essential)
• Waterproof trousers (essential)
• Sunhat/sun cream (please note that staff are not permitted to apply sun cream to children but will supervise!)
• Water bottle for daily re-filling
Food
The cost of the trip includes all food apart from lunch on the first day. Please send your child with a packed lunch and drink (no cans or glass bottles) for Wednesday 9th May. This should be carried in their rucksack.
Pocket money
There will be 2 occasions where your child may wish to buy an ice cream, some sweets or a souvenir; these will be at Brockhole and the Aquarium. Children may bring up to £10 with them which must be kept in a labelled purse/wallet/envelope. Children will be responsible for their own money and keep it safe in their rucksack. Staff will not be looking after money for any child.
Gadgets
This trip is strictly gadget-free! Children may bring books, comics, colouring books, pencils, cards etc but absolutely no electronic gadgets. Staff will be taking plenty of photographs during the stay which will be uploaded onto the Year 3 page on the school website on our return so there is no need for any child to bring a camera.
Bedrooms
Children will be organised into bedrooms in groups of approximately 4-6; the rooms will all be located in the same area of the youth hostel (they will not know who they are sharing with until they get there.) Staff bedrooms will be located in the same area as the children's rooms and every child will know which rooms we are in. Children will not be allowed to visit other bedrooms and will be given strict instructions about behaviour and safety whilst in their rooms.
Final payments
Please can any outstanding payments for this trip be sent to the office by Monday 19th March.
Finally, please relax and enjoy 3 days of peace knowing that your children will be having an amazing time being with their friends, having new experiences and learning a little bit of independence! Please rest assured that if there is any problem whatsoever we will contact you and remember the saying: "No news is good news!"

Yours sincerely
Sarah George